stratified townscape
The residential building is located in the Fifth District of Vienna in between two mid-nineteenth-century Gründerzeit buildings, on a site with a maximum building depth of 15 meters and a plot size of 15 by 30 meters. Four principles—through views from the street into the courtyard, gardens for every floor, two-sided apartments, and a glass facade facing the yard—are the main parameters of the design. The street facade fits into the sequence of perforated facades and is created by a perspective view, as clear room heights differ from neighboring houses due to building costs and maximum usable floors.
Views into to the semipublic green courtyard from the street create a different sort of urban living in comparison to the enclosing walls of old buildings without transparency and connections. The garden remains open to the public eye, offering wide-reaching views, but it still contains a variety of private zones within. A bright plastered surface with horizontal planting areas adjacent to each floor transforms into a climbing lawn, an extension of the backyard, growing on the back elevation of the building. This creates garden galleries outside of every window; living spaces turn into winter gardens using large glass facades and the "greenfilter concept." This newly developed structure in front of the west facade gives the user the chance to arrange plants, creating a kind of conservatory of more than 20 square meters rather than a balcony of 8 square meters that also overshadows the neighbors living below. The garden galleries are made of zinc metal sheets, with different depths and dimensions. All fourteen units open onto it. Although their structure does not allow the tenants to step onto them, this is outweighed by the fact that the galleries' position right by the living room brings a private lawn directly into the large spaces instead of creating individual small balconies. In the apartments, natural light has less impact beyond 6 meters inside, therefore sanitary rooms or kitchens are placed in the center. All flats face both ways and offer open floor plans if desired and use natural cooling by cross ventilation and district heating.
2005-2008, 1050 Vienna.
1.Prize.
National competition .
Kallco Bauträger GmbH. Vienna.
Residential building. 14 apartments with underground parking.
Architectural services.
GFA 1.820 sqm.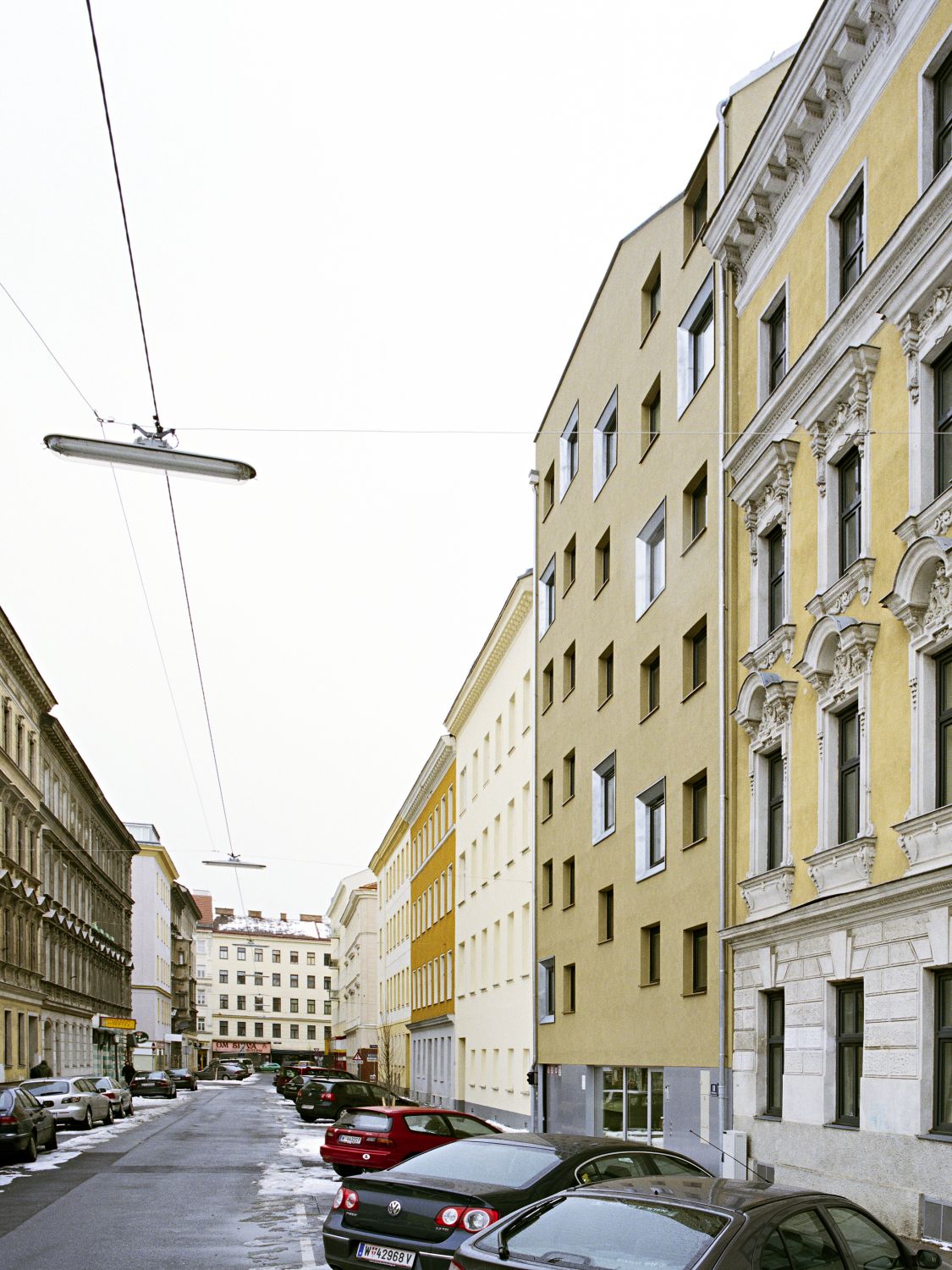 further information
Program:
Residential building, 14 apartments with underground parking, new built
Client:
Kallco, Vienna, Austria
Architecture:
Design - HOLODECK architects
Project team - Marlies Breuss, Michael Ogertschnig, Ulrich Hagen, Stephan Goos, Jan Chladil, Grischa Fischer, Alexej Kolyschkow, Jan Conradi
Consultants:
Landscape planning - 3:0 Landschaftsplanung, Vienna
Building physics - Manfred Bruck ZT, Vienna
Engineering - kppk, Vienna
Photography - Hertha Hurnaus
Scope of work:
HOA/A, §3 (1)-(7)
Dimension:
euro 1.400.000, GFA 1.820 m2, building area 1.022 m2